A Letter from
Fr. Michael L. Pastrikos
---
Welcome to St. Nicholas Greek Orthodox Church
The St. Nicholas Greek Orthodox is one of 59 parishes that belong to the Metropolis of New Jersey.
His Eminence Metropolitan Evangelos is the Head and Spiritual Leader of the Metropolis. The St. Nicholas parish is located in the heart of Baltimore, Maryland's Greektown and it has been serving the people of Baltimore and the surrounding areas for over 58 years. While much has changed in the area throughout the years, one thing has remained the same. St. Nicholas will always be the traditional Greek speaking community. Our services are held predominately in Greek along with English. Divine Liturgy is celebrated every Sunday along with services during the week commemorating the lives of the saints, and the holy days of our Church. Even though changes have occurred, and new parishes are on the horizon, St. Nicholas will always be a growing community. As a parish, we are proud of our parishioners, who gather together for prayer, worship, and fellowship. Our parish family is a dynamic community of faith, hope, and love. We have many exciting and outstanding ministries within the church that fulfill the spiritual needs of our parishioners.
Our church is enriched with 2,000 years of history from the time of Christ. We believe in celebrating together our faith, our heritage, and our traditions. We believe that everyone's feelings count, and that the uniqueness of each of us strengthens all of us. What it truly comes down to, is that we believe in one another and we support and care for each other.
New comers and visitors are always welcome at St. Nicholas. While it is our hope that this website will help you learn about our parish, its history, traditions, culture, and of course our Orthodox faith, we hope that you will personally come visit us. When you worship here at the church, you will discover an ancient yet dynamic faith, a welcoming family, and perhaps even a spiritual home where you can plant roots to deepen your relationship with Christ and the Holy Spirit.
If you have any questions about the Greek Orthodox faith, and wish to arrange a hospital or pastoral visit or discuss any issue regarding our Church, please call me at 443-742-8314 or E-mail me.
With pastoral love in Christ Jesus
In His service
Fr. Michael L. Pastrikos
Protopresbyter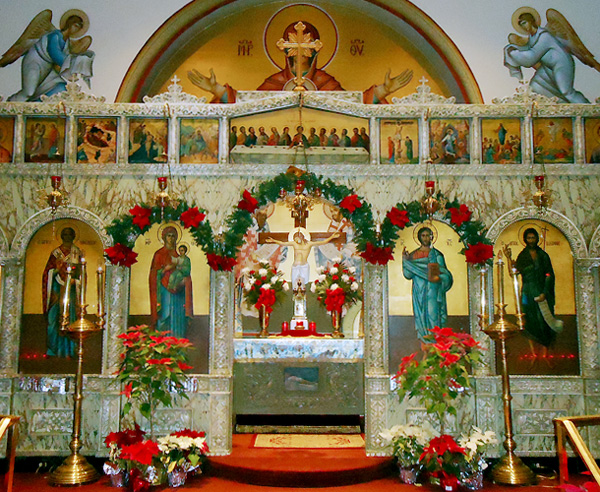 ---

RETURN TO HOME PAGE