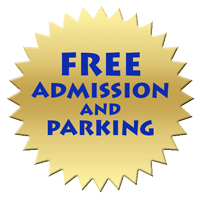 Be Greek For A Day.
Celebrating our Greek Orthodox faith and culture by sharing our faith and traditional through our love of God, music, dance and authentic Greek food.  Come and enjoy great food, wine, music, dance and our famous Greek hospitality.
2018: June 7, 8, 9, 10
| | | |
| --- | --- | --- |
| June 7 | Thursday | NOON to 10:00 PM |
| June 8 | Friday | NOON to 11:00 PM |
| June 9 | Saturday | NOON to 11:00 PM |
| June 10 | Sunday | NOON to 10:00 PM |
Proceeds support the ministries of St. Nicholas Greek Orthodox Church of Baltimore, Md.
Greektown Square and Events Center
701 S Ponca Street, Baltimore, MD 21224

Click a box below for more information.
Kids' Zone
---
What activities may my children enjoy?
The Kid Zone is sure to keep all families entertained with a Discovery play set for small children to enjoy, and plenty of hands-on craft activities and face painting to enjoy for a nominal fee. After getting creative, the children may part-take in some Greek dancing, watch Greek dancing groups from all over the state of Md. and enjoy some live Greek music for appropriate for their little ears.
For scheduled Folk Festival activities at the St. Nicholas Church, see Church Events.
Are there rides and when are they open?
The Kid Zone offers amusement rides operated by an independent company. The rides are open each day starting at 6 p.m.
What are the height restrictions for rides?
Each ride has its own height restrictions and a child's height is measured prior to being allowed to entrance to an amusement ride.
Safety and health tips:
Drink plenty of water throughout the day, especially when it's hot and sunny
Wear closed-toe comfortable shoes
Wear sunscreen to prevent yourself from getting sunburn
Check the weather forecast before attending to ensure that you and your children are properly dressed
Eat a well balanced breakfast before heading out to the festival
Get plenty of sleep nigh before the festival so that you and your children may have sufficient energy to enjoy the day
Do not abuse alcohol beverages and drink plenty of water and eat regularly if consuming alcohol beverages and eat
Come prepare with a small first aid kit with band-aids, bandages, antiseptic cream, hay fever tablets, sterile wipes and medication for headaches and bad stomachs
RETURN TO TOP