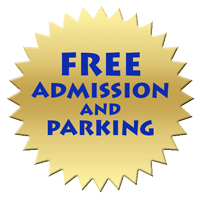 Be Greek For A Day.
Celebrating our Greek Orthodox faith and culture by sharing our faith and traditional through our love of God, music, dance and authentic Greek food.  Come and enjoy great food, wine, music, dance and our famous Greek hospitality.
2018: June 7, 8, 9, 10
| | | |
| --- | --- | --- |
| June 7 | Thursday | NOON to 10:00 PM |
| June 8 | Friday | NOON to 11:00 PM |
| June 9 | Saturday | NOON to 11:00 PM |
| June 10 | Sunday | NOON to 10:00 PM |
Proceeds support the ministries of St. Nicholas Greek Orthodox Church of Baltimore, Md.
Greektown Square and Events Center
701 S Ponca Street, Baltimore, MD 21224

Click a box below for more information.
Food and Drink
Food service is available all day at the Vegetarian Cafe in the large social hall of the church as well as a variety of Greek specialty foods and desserts are available at the Greektown Square and Event Center. The Greektown Square and Event Center is within walking distance of the church.
Free Food Demonstrations
Free Food Demonstrations at the St. Nicholas Church's main level, Greek School wing. Food samples will be available for tasting while attending the food demonstrations.
---
DEMO SCHEDULE
Schedule to be posted close to the Festival dates.
Authentic Greek food and beverages
Not familiar with Greek cuisine? Here are some of the authentic dishes and drinks you sample at the food demonstrations or find at the festival.
---
Baklava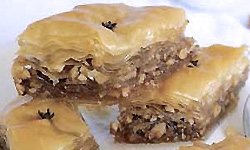 Crispy, nutty and extra syrupy! Baklava is a delicious traditional Greek dessert made of layers of crispy golden brown phyllo, filled with chopped nuts and garnished with lemon scented syrup. The traditional Greek Baklava recipe has its roots in ancient Greece, where they made 'gastrin', a sweet very similar to the current baklava. Baklava is an extra syrupy Greek dessert which falls under the category of 'Siropiasta'. Syrupy Greek desserts are very popular among Greek cuisine.
---
Fanouropita (φανουρόπιτα)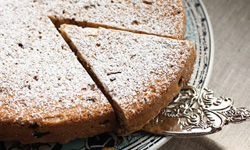 Fanouropita is a vegan cake baked in St Fanourios' honour. It is the Greek version of gingerbread, resembling a sweet bread rather than a cake. Although it doesn't contain ginger, this spice could easily replace the traditional ground cloves and cinnamon.
---
Greek Style Risotto
Who says a risotto can't be Greek? Using some traditional Greek ingredients, this north Italian rice dish has been adapted by many countries to conjure the tastes and the smells of their adoptive countries' cuisine.
---
Greek Wines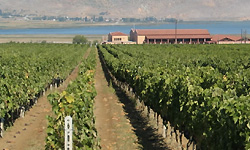 Greece is one of the oldest wine-producing regions in the world, and wine has always been a consistent staple at any meal, consumed daily. Greek wines were meant to be enjoyed with food — it's the Greek way.
---
Grilled Octopus (χταπόδι στα κάρβουνα)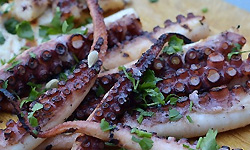 The Greeks have been eating fresh octopus since ancient times and the chefs of St. Nicholas know how to grill octopus to perfection Mediterranean style.
---
Gyros (γύρος)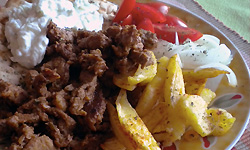 Gyros is a Greek dish made of meat cooked on a vertical rotisserie, normally pork, chicken, beef, veal, lamb or mutton, and usually served wrapped in a flatbread such as pita or sandwich, with fries, tomato, onion, and tzatziki sauce.
---
Keftedes (κεφτέδες)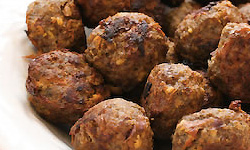 Keftedes is a popular Greek appetizer, commonly served as part of a meze platter, with some creamy tzatziki sauce and pita breads.
---
Koulourakia (κουλουράκια)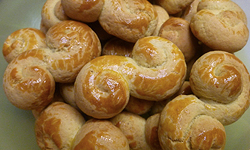 Koulourakia are a traditional Greek dessert, typically made at Easter to be eaten after Holy Saturday. Well known for their sprinkle of sesame seeds and distinctive ring shape, this butter-based pastry has a sweet delicate flavor with a hint of vanilla. Minoans who worshiped the snake for its healing powers often shaped these pastries like snakes.
---
Kourambiethes (κουραμπιέδες)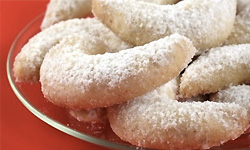 Kourambiethes resemble a light shortbread, typically made with almonds and shaped either into crescents or balls, then baked till slightly golden. After they cool, they are usually rolled in icing sugar. Kourambiethes are especially popular for special occasions, such as Christmas or baptisms.
---
Leg of Lamb (αρνάκι)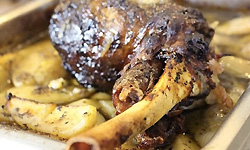 Loaded with Greek flavors, Greek leg of lamb is fork tender, moist and infused with extra flavor. It is traditionally served with Greek style potatoes and string beans.
---
Loukoumades (λουκουμάδες)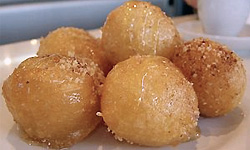 Loukoumades are pastries made of deep fried dough, commonly spiced with cinnamon in a honey syrup and can be sprinkled lightly with powdered sugar.
---
Marithes (μαρίδες)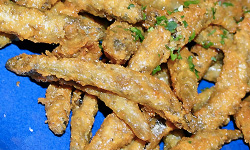 Fried whole baby smelt is a common dish in Greece.
---
Mythos Beer (Μύθος)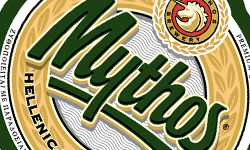 Mythos is a light straw-coloured, lager beer introduced in 1997 by Mythos Brewery, the second largest Greek brewery in the United States. The company, a subsidiary of Carlsberg since 2008, also imports a number of non-Greek beers into the country. The main production plant is located in Thessaloniki.
---
Pastitsio (παστίτσιο)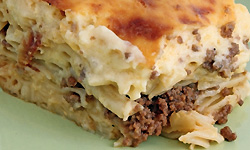 Pastitsio is to Greek cuisine what Lasagna is to Italian cooking. This classic Greek comfort meal is made of layered macaroni and ground beef topped with béchamel sauce and cheese. This is one meal that is sure to please everyone.
---
Souvlaki (σουβλάκι)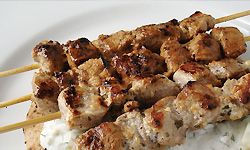 Souvlaki is a popular Greek fast food consisting of small pieces of meat and sometimes vegetables grilled on a skewer. It is usually served in a pita sandwich with garnishes and sauces, or on a dinner plate, often with fried potatoes.
---
Spanakopita (σπανακόπιτα)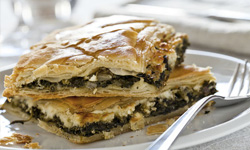 Spanakopita or spinach pie is a Greek savory pastry. It is in the burek family of pastries with a filling of chopped spinach, feta cheese, onions or scallions, egg, and seasoning. The filling is wrapped or layered in phyllo pastry with butter and/or olive oil, either in a large pan from which individual servings are cut, or rolled into individual triangular servings. It is mostly eaten as a snack in Greece, and it can be an alternative to tyropita.
---
Tyropita (τυρóπιτα)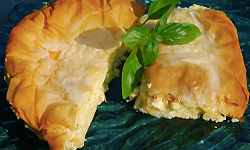 Tyropita is a Greek layered pastry food in the burek family, made with layers of buttered phyllo and filled with a cheese-egg mixture.
---
RETURN TO TOP