Our Mission
Saint Nicholas Greek Orthodox Afternoon School recognizes and respects the uniqueness of each child. Established in 1953, the school's primary mission is to foster a love of learning in each student. Our curriculum skillfully weaves artistic and practical disciplines into everyday academics. Students learn to follow their curiosity, to think creatively, and to work both independently and cooperatively with others. The academic program offers a well rounded Greek education for the students.
Philosophy
We believe every child should be given the opportunity to reach his/her full potential. We encourage a child's desire to learn in a fun and non-threatening environment.
Mission Statement
To provide education and instruction in the Greek language, culture and heritage to enhance bi-cultural awareness and to promote the life-long benefits of learning a second language.
Curriculum Overview
Objectives
The objectivs of the school are to present all aspects of the Modern Greek language to its students, including vocabulary building, reading, writing and grammar with emphasis on conversation. Greek poems, prayers, songs and dances are used to teach each student about the Greek culture, heritage, history and religion.
Methodology
Greek language textbooks, workbooks, vocabulary building programs, computers and interactive programs are used as educational tools. The language learning material is written and provided by the Greek Ministry of Education and is used by each child. The St. Nicholas Greek Orthodox Afternoon School is accreditate by the Greek Ministry of Education. Its policies and procedures are governed by the Regulations of the System of Greek Education of the Greek Orthodox Archdiocese of North and South America
The school consists of four main academic programs serving the children and adults of the Greek Commuity.
Pre-School and Kindergarten School Program
Here you will find a nurturing, educational environment for children of ages 4 to 7 years.
Intermediate Greek Studies for Grades 1st through 6th Grade
These classes are offered twice a week for bilingual and non-bilingual children aspiring to learn to read and write the Greek language as well as learn ancient Greek history and the Greek culture.
Advance Greek Studies for Ellinomtheia I,II,III Class
This class is offered twice a week for those children who have completed the education program of Saint Nicholas Greek Orthodox Afternoon School and aspire to advance their knowledge, reading skills, writing skills and cultural understanding. These students are eligible to take the Ellinomtheia level examinations offered by the Greek Ministry of Education
Adult Conversational Greek Studies
This class is offered twice per week for adults who are interested in either to learn or refresh their Greek language skills as well as learn to read and write the Greek language.
Cultural and Dance lessons
Cultural and Dance lessons are offered for 30 minutes directly before or after language classes for all students to enrich their understanding of the Greek Heritage and learn the cultural Greek dances.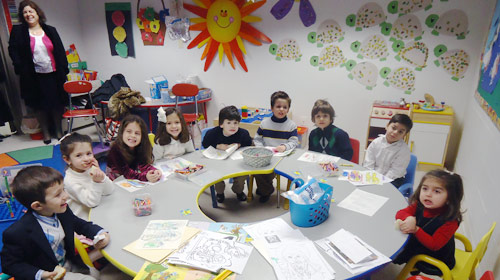 Extra-Curricular Activities
To stimulate social interaction, school spirit and plain fun, Saint Nicholas Greek Orthodox Afternoon School offers students a wide variety of opportunities to interact with their fellow students. These include the following: Educational School Trips to such places as the National Smithsonian Natural History Museum, National Smithsonian Air and Space Museum, Baltimore Museum of Art, Historic Philadelphia and the Baltimore Zoo. Also, the Greek School PTA has hosted an Autumn Party, Christmas Party, and trips to Hershey Park for the students to socialize and develop everlasting friendships.