Church Staff
Father Michael L. Pastrikos
Protopresbyter
1953: Born in Kalymnos, Greece, August 22
1958: Moved to the United States: Ambridge, Pennsylvania
1971: Graduated from Ambridge, Pennsylvania High School
1971-1976: Graduated with a Master Degree in Theology from the Aristoteleion Theological University in Thessaloniki, Greece. While attending the University, served at the St. Haralambos Metoxi Chapel of the Mt. Athos Monastery of Simonopetra in Thessaloniki. Also served as Chantor, Bible Class Instructor, Youth Advisor, and Custodian under the spiritual guidance of Fr. Hlarion Yerakis. After Graduation, enrolled in the Universities Doctoral program for one year.
1976: Married Dimitra Paximada at the St. Gregory Palamas Metropolis in Thessaloniki, Greece
November 27: Ordained to the Holy Diaconate, Holy Trinity Church in Ambridge, Pennsylvania by His Grace Bishop Gerasimos
December 4: Ordained to the Holy Priesthood, All Saints, Canonsburg, Pennsylvania By His Grace Bishop Gerasimos
1976-1980: Assigned to first parish, All Saints Church in Canonsburg, Pennsylvania
Assigned as Diocese Youth Coordinator
Originated the first Youth Seminars
Began the first winter GOYA Retreat and the first Diocesan Youth Camp Retreats. Camp Nazareth.

1980: His Grace Bishop Maximos bestowed the title" Stavroforos"
Received the honor of "Priest of the Year"
1980-1983: Assigned by the Archbishop Seraphim of Athens, Greece as Chaplain and Proistamenos of The Evangelismos Hospital
Taught religious classes for two years at the Evangelismos Hospital Nursing School Attended Clinical Pastoral Classes for two years at the University of Athens. Received Certificate of Accomplishment
1983-1990: Assigned by His Grace Bishop Maximos of Pittsburgh, to serve the parish of Sts Constantine & Helen Church in Mansfield, Ohio
Appointed by His Grace Bishop Maximos of Pittsburgh, to serve as Administrator Assistant, taking on the responsibility of the Monastic Brotherhood of St. Gregory Palamas Monastery in Hayesville, Ohio
1990-2006: Assigned to the Parish of St. Haralambos Church, in Canton, Ohio
1993: Received the Title " Protopresbyter"
Throughout my tenure years of Priesthood, I have had the honor of serving the Metropolis of Pittsburgh in many different capacities:
Served on the Diocesan Council and the Diocesan Youth Council: Served as Chairman of the Diocesan Spiritual Renewal Conferences: Served as Chairman of Parish Council Seminars: Served as Vice President of the Clergy Syndesmos: Served on the Archdiocesan Presbyters Council holding position as Treasurer: Served as Secretary of Spiritual Court: Organized three Pilgrimages to Jerusalem, Ecumenical Patriarchate, Egypt, and Greece
2006-2007: Appointed by His Eminence Metropolitan Alexios of Atlanta to serve the parish of Annunciation Church in Pensacola, Florida
2007-Present: Appointed by His Eminence Metropolitan Evangelos of New Jersey to serve the parish of St. Nicholas Baltimore, Maryland
Appointed by the Clergy Syndesmos of New Jersey to serve on the Metropolitan Council.
Organized a Pilgrimage to Jerusalem, & Egypt in 2010
RETURN TO TOP

Maria Salpeas
Church Secretary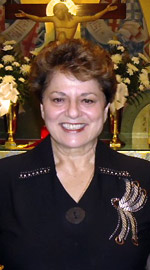 Maria Salpeas is the church secretary and business administrator. She is the first point of contact for St. Nicholas Greek Orthodox Church. Maria has served in this position for 30 years. New members and existing members may speak with Maria about volunteering opportunities, meeting their Stewardship obligations, scheduling events and sacramental services and any other general question regarding Saint Nicholas Church. Maria is an untiring and energetic Greek personality. Always with a smile, she is ready to help in anything. From organizing church fundraisers to dances, she is always on the front line. We can say she is the corner stone of our Community. She can be reached at 410-633-5020, Monday through Friday from 9:00 a.m. to 4:30 p.m. and on Wednesdays from 9:00 a.m. to 12:00 noon.
RETURN TO TOP

Peter Michael Karlos
Iconographer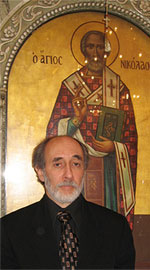 Peter Michael Karlos was born and raised in Minneapolis, Minnesota, and participated in the activities of St. Mary's Church there. Growing up, he was very artistic, preferring religious subjects. One of his first drawings of Christ was made at age 12. He was influenced greatly by his maternal grandmother who was a devout Greek Orthodox. After he graduated from high school, Peter attended Holy Cross Greek Orthodox Seminary in Brookline, Massachusetts for one year. He returned to Minnesota to study art at the Minneapolis College of Art and Design. Peter also frequently visited iconographers at the Holy Transfiguration Monastery in Brookline, Massachusetts to observe their iconography techniques. He then moved to Maryland to study under Demetrios Dukas, the renowned iconographer who was a student of Photios Kontoglou. Mr. Dukas was a major influence on Peter's art. Peter now lives in Baltimore and is a member of Saint Nicholas Church.
RETURN TO TOP

Stanley (Stelios) Cavouras
Sexton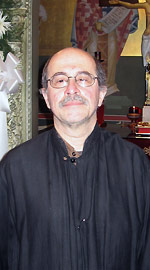 Stelios Cavouras has been the sexton of St. Nicholas since January 2005. He occasionally opens the church for services and other events but mainly closes the church and its facilities after baptisms, weddings, meetings, dances, parties, receptions, dance groups' practices, the afternoon Greek School and the Greek Festival. He serves in the altar on Sundays and during weekday services (when time permits) and assists our priest during baptisms and weddings. He occasionally helps out in the office and performs other duties as the need arises at the church.
RETURN TO TOP

In Memoriam George Rossi
Protopsaltis and Choir Director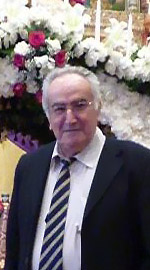 George P. Rossis was born in the village of Kattavia on the island of Rhodes, Greece in the year 1935. After graduating from high school, George enrolled in the School of Byzantine Music of the Metropolis of Rhodes in the capital city of Rhodes. There he studied and mastered the fine art of ecclesiastical Byzantine chanting.
George has served many churches in Greece before moving to the United States. He has served as the volunteer chanter for the newly established Suburban Church now the St. Demetrios Church and later as the full time chanter. He then came to serve St. Nicholas Church where he has faithfully served our church as Protopsaltis and choir director for many years.
George is married to his wife Katina and they have one daughter Tsambika (Becky) who is married to Reginald Barnes, and have 2 lovely granddaughters, Alexis and Anastasia.
RETURN TO TOP

Peter Bisbikis
Church Organist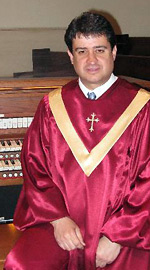 Peter Bisbikis was born and raised in Baltimore City's "Greek Town." His parents are Gus and Helen Bisbikis and his sister is Donna Bisbikis Spencer. His family members have been parishioners at St. Nicholas Greek Orthodox Church since 1958. Pete has been an active member of St. Nicholas since childhood, attending Sunday School, Greek School, as well as a member of the Hellenic Golden Coins dance group, GOYA and YAL. Pete also served as an altar boy from 1979 to 1982. After his service as an altar boy, Pete joined the church choir and has been the church organist since 1984. .
Pete was first introduced to music at the age of 6 by his father, who also played guitar with the Greek band, the Delphians. At the age of 8, Pete studied music and took organ lessons with George Anest. Pete is currently a member of the band Zephyros, which specializes in traditional Greek music. The Greek heritage and traditions are reflected in their music, when they play at Greek weddings and festivals throughout the year.
RETURN TO TOP